Spa Course
Our head spa specialty store, Tokowaka, has only ONE course on the menu — our Scadara Course!
3 key points of our Scadara course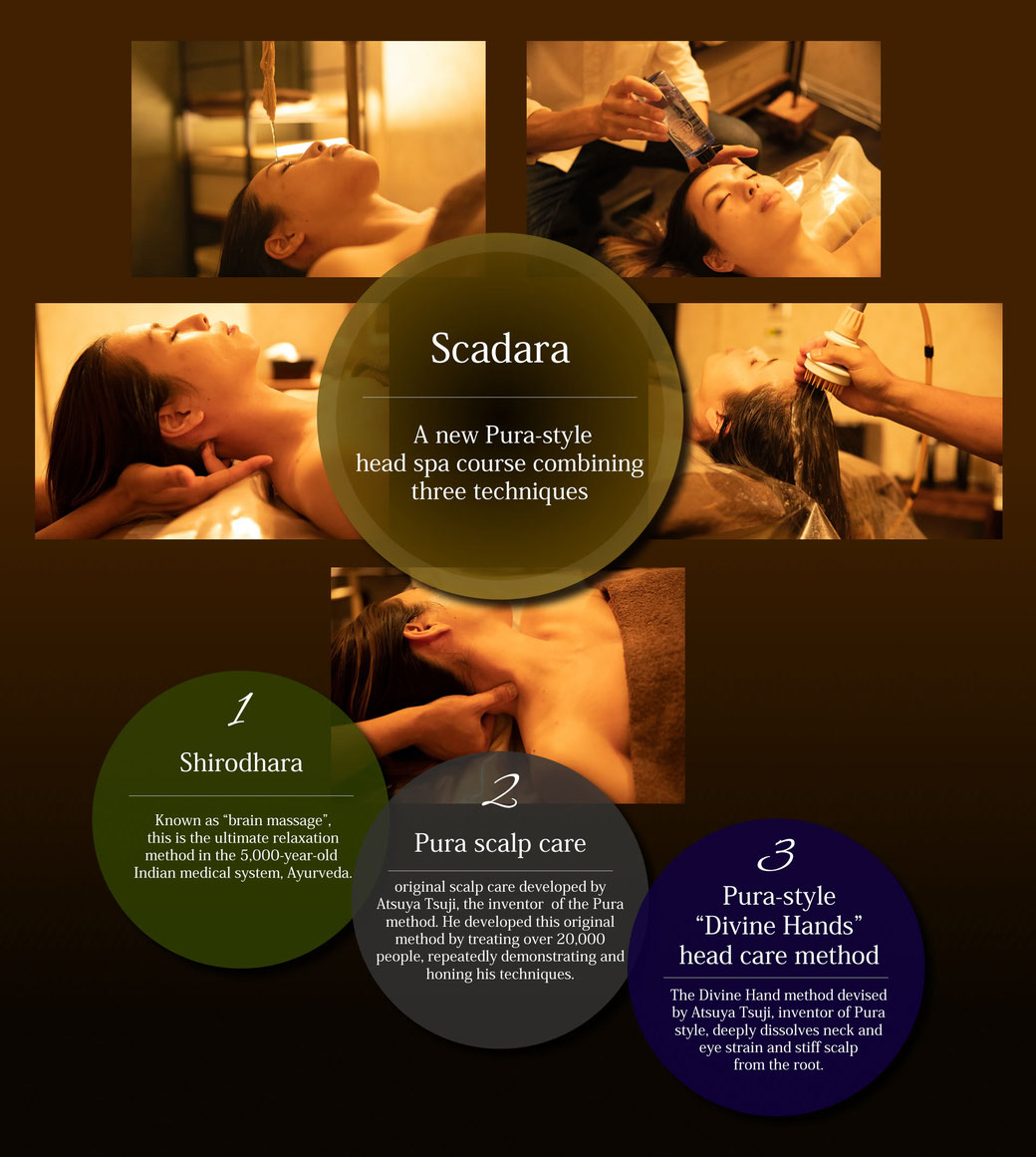 Scadara Course: 55min for ¥9,900 (tax included)
※The time above is for treatment only. Please note that it does not include the time for the beauty machine (free service) and self blow-dry after the course.
①. Pula "Divine Hands" head massage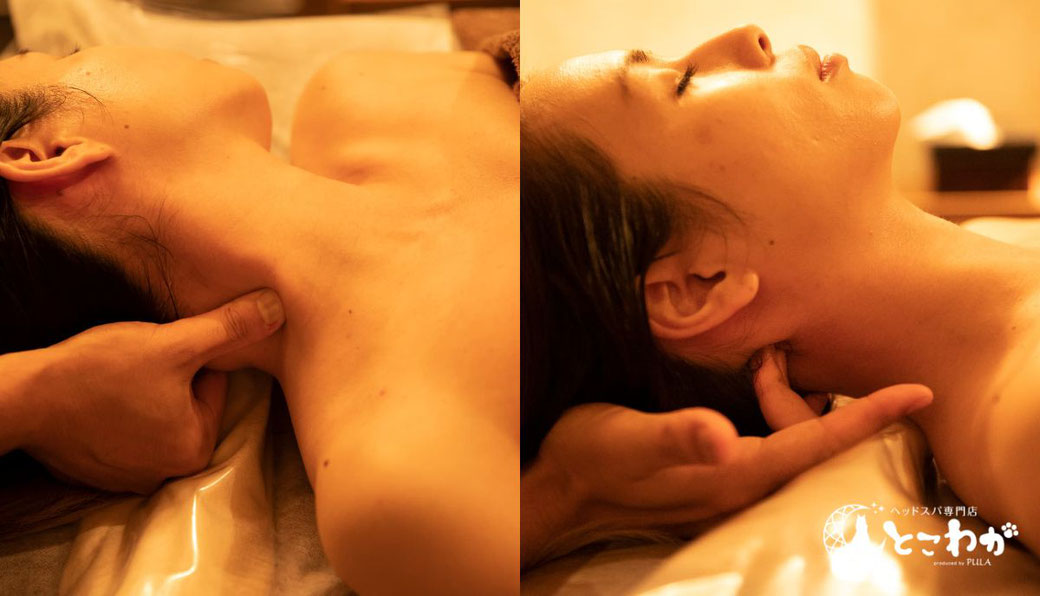 This is not a general head spa for superficial stiffness and fatigue, but a unique head spa technique that directly approaches the cause of stiffness at the deep part of the scalp, causing a chain reaction of natural healing that cascades throughout your body. It is very effective for scalp care, skin lifting, and complaints such as pain and fatigue.
②. Pura scalp care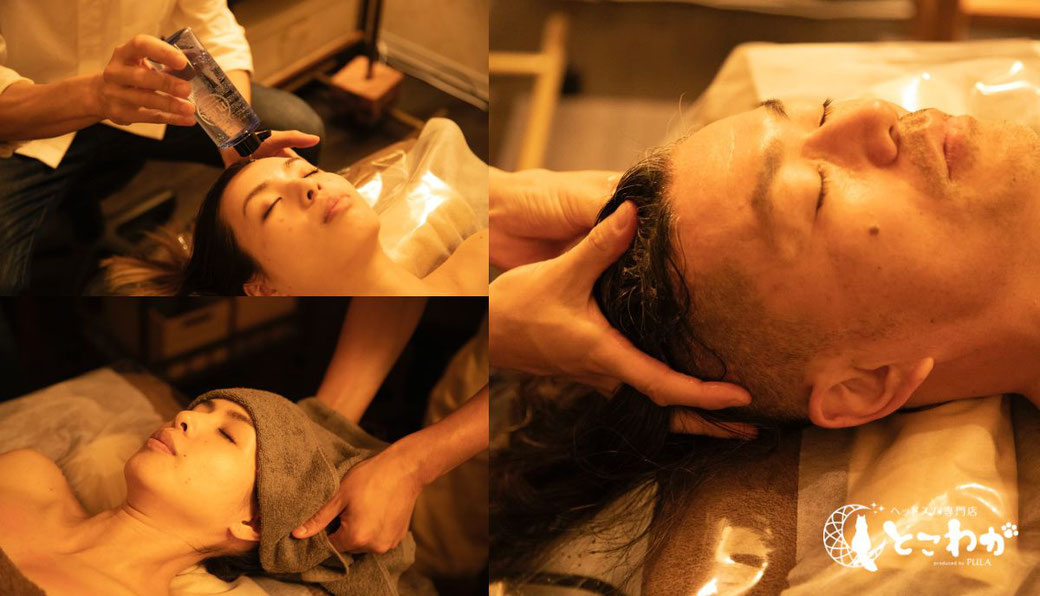 Tokowaka's original Scadara special gel was developed by Atsuya Tsuji, the inventor of Pura style. It is a blend of hot spring water, minerals, fulvic acid, baking soda, oils, and more. It removes dirt such as oxidized sebum, which clogs the pores of the scalp and cannot be removed with ordinary shampoo.
A special weak electric current is applied to promote blood circulation, activate hair matrix cells, and lift dirt.
Using a head spa brush, the dirt is scraped out from the pores.
Achieve a scalp environment that facilitates hair growth.
It is also very effective in reducing scalp odor.
③. Shirodhara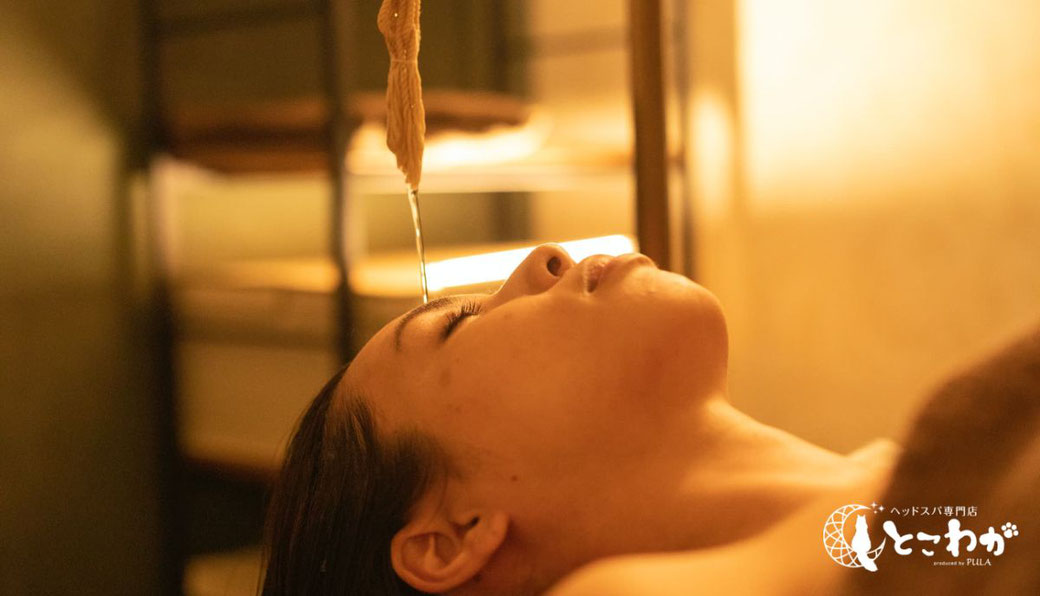 The ultimate relaxation method among Ayurvedic therapies.
The Tokowaka special gel is warmed to 38° and applied from the forehead to the head where many acupuncture points and nerve cells are located. It seeps into the hair follicles, relieving tension and giving the sensation of being free from daily fatigue.
Enjoy this relaxation technique that is also called "brain massage".
※You do NOT need to change your clothes for the Sukadhara course、but please refrain from wearing clothes with a high neckline or hoodies, as the neck will be massaged.
Effects of Shirodhara
Relaxation (relieves tiredness of the brain and nerves)
Stress relief
Anxiety relief
Restful sleep, eye strain relief
Improved natural healing power
Menopause and headache relief
etc…